The most recent UNICEF data reveals that the genitals of 145 million girls and women have been cut. It's the same as if the whole population of Russia, male and female, young and old suffered genital mutilation because of ancient traditions that have no place in the modern world. While in most of the countries the practice is fortunately subsiding significantly, in others the fight against it is just starting.
Female genital mutilation (FGM) is an umbrella term for procedures that injure the female genital organs for non-medical reasons. These procedures cause long-term health issues such as severe pain, excessive bleeding, infections, higher contagion rate of HIV, even death. They deeply affect the quality of sexual life and pose a risk for the mother and the child during childbirth. Moreover, it leaves the survivors with severe psychological trauma. It is labeled as a violation of women's and children's rights by the United Nations. Female genital mutilation officially takes place in 29 countries according to UNICEF, most of them in Africa.
However, recent findings show the practice is not an African problem because it is much more spread globally than previously thought. New research confirms FGM is spread in the Middle East in countries such as Oman, the United Arab Emirates and Iran. Anthropologist Kameel Ahmady revealed in June that thousands of women have secretly been subjected to FGM in Iran. Actually, in some western and southern regions up to 60 percent of females in their 30s and 40s have been cut, mostly among the Sunni Kurds. It was practically unknown that Iran had FGM.
The situation is not exclusive for this region because the initiative "Stop FGM Middle East & Asia" supported by the NGO WADI demonstrated that the practice is also found in other Asian countries such as Pakistan, India, Sri Lanka, Malaysia, Thailand, Indonesia and the Philippines. Even in Latin American countries such as Peru and Colombia, some small native communities practice the procedure.
The cutting problem also affects Europe and North America where some immigrant communities whose countries of origin have high FGM rates keep the tradition. Most of the times, girls travel during holidays to their motherland to be cut.
Explanations and solutions for FGM are highly country specific, as the motivations and types of cutting among them differ. In some countries such as Kenya it is a ritual that marks the transition to womanhood. In others, the motive is to make the girl pure before marriage and avoid intercourse such as Somalia. In some places such as the south of Nigeria the clitoris is cut because people believe that the newborn baby will die if the head touches it while giving birth.
When generations of women have been so badly mutilated there is no collective memory of normal body genitals
There are multiple kinds of cutting. 'Sunna', also known as Type I, is the most practiced one. It is the partial or total removal of the clitoris and sometimes the prepuce. 'Excision' or Type II, consists of partial or total removal of the clitoris and the labia minora, with or without excision of the labia majora. Data on 'Sunna' and 'Excision' procedures is grouped under the category "flesh removed" and it accounts for at least 80% of the total cases of FGM worldwide. For instance, in Benin 69% of women have suffered flesh removal, including both Type I and II, while in Guinea four in five women have undergone one of these types of cutting. The gravest form of cutting, known for some as 'infibulation', 'pharaonic cutting' or Type III, narrows the vaginal orifice with creation of a seal by cutting and sewing the labia. It is practiced in places such as Somalia, where at least 63% of women have undergone infibulation, or in Sudan, where two thirds of women have been cut in the gravest way.
TYPE I or Sunna, a common and slightly less severe form of FGM

Type II or excision, a common and slightly less severe form of FGM

Type III , Infibulation or the gravest form of FGM.

Illustrations reproduced with permission from the artist, Jessica Stanton, MD. © 2013 Mayo Foundation for Medical Education and Research.
Even if Somalia has an official law banning FGM, it usually doesn't lead to convictions, as nobody reports people who perform it.
Cutting female genitals is part of a long tradition in the Horn of Africa. "Research has shown that FGM originates in this region and is thought to be linked to preserving virginity in female slaves." said Louise Robertson, spokesperson at 28TooMany, an organization founded in 2010 to do research and enable local initiatives to end FGM.
OneWorld chose four African countries to explore the challenges the communities and NGOs face in their fight against the practice.
Empowering the Sudanese youth
In 2010, 88% of Sudanese women said to have suffered FGM. This represents only a very slight decrease since 2000. The practice is widely spread both in urban and rural areas. It is also equally spread among poor and rich women.
Sudan is changing rapidly in terms of urbanisation and modernisation. For instance, Khartoum, its capital, houses 30% of the population now and by 2050 it is expected to be inhabited by half of the Sudanese. More and more people are connected to the internet and smartphones. "Some families as they urbanise, or get educated, shift from Type III to type II or I. They are still the minority though." explained the Sudanese director of pro-women's rights NGO RAINBO Nahid Toubia who has spent her last 34 years as an activist against FGM and became the first female surgeon in her country in 1981.
Toubia's initiative 'Ana Lan' or 'I will not' in Arabic is focused on training the youth in terms of sexual and reproductive health order to stop FGM. "Our approach is to start with the biggest numbers, the ones easier to reach, the age group hungry for change and the soon to be new parents: the youth" said Toubia. They organize live concerts, workshops, universities dialogue stands and maintain a Facebook page.
Toubia indicates the main obstacle to decrease this tradition is changing people's mindsets. "When generations of women have been so badly mutilated there is no collective memory of normal body genitals and the mothers pass on this sense of 'normalcy' of their bodies to their daughters" Toubia told OneWorld. As a result, women who do not undergo FGM face a lot of stigma and social exclusion.
In Burkina Faso, Ghana or Senegal the practice has gone underground which makes it a lot more difficult to fight the tradition
Absence of a national law against the practice also presents a problem. In 2010 a bill proposed to ban the procedures, but according to Toubia, it was struck-down by the President and its advisers. Sudan's recent history of civil war and conflict has also made harder to implement programmes against FGM.
Raising awareness among new generations in Somalia
Ifrah Ahmed is an activist and director of a foundation that bears her name. Ifrah created it to stop FGM, which she personally survived to after being cut twice, once when she was eight years old and 12 years old.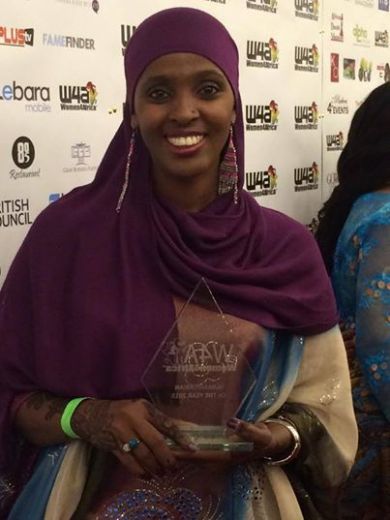 In 2015, Ifrah Ahmed received the prize 'Humanitarian of the Year' by the organization Women4Africa.
Ifrah's foundation does not have an easy task. Somalia is the country with the highest rate of FGM worldwide: approximately 98% of women have undergone the procedure. UNICEF data shows the problem is slightly decreasing and faces multiple challenges.
Ifrah Foundation is giving lectures and doing surveys in schools, IDPs (Internal displaced person centers), leading a discussion with Islamic fundamentalists who support FGM and training young ambassadors to raise awareness among their communities.
In Somalia, some Islamic fundamentalists support the practice as a religious requirement. However, experts say this does not represent the religion, but rather a deviated point of view. "Religion itself does not influence FGM prevalence but distorted interpretations of various religious texts is sometimes used as a supposed way to legitimise it" explained Mary Wandia, FGM Program Manager at Equality Now. Wandia has been working on campaigns that support women's rights for 14 years.
Even if Somalia has an official law banning FGM, it usually doesn't lead to convictions, as nobody reports people who perform it. The Ifrah Foundation is therefore also working with the Somali government to build a national policy to decrease the practice.
Transformed traditions in Benin
In 10 years, FGM in Benin has more than halved (from 17% to 7%). Programmes that had contributed to the decrease were not only focused on providing information to the communities, but also targeting the excisors and regional chiefs. "Accompanied by a field worker, the ancient practitioners, also known as excisors, talk to the village communities. They insist on the harmful character of cutting, and tell the villagers that they themselves will never again practice it." explained Detmar Hönle, Vice President of (I)NTACT, a German NGO fighting FGM in Benin. Afterwards, every excisor receives a micro-credit to start a new economic activity.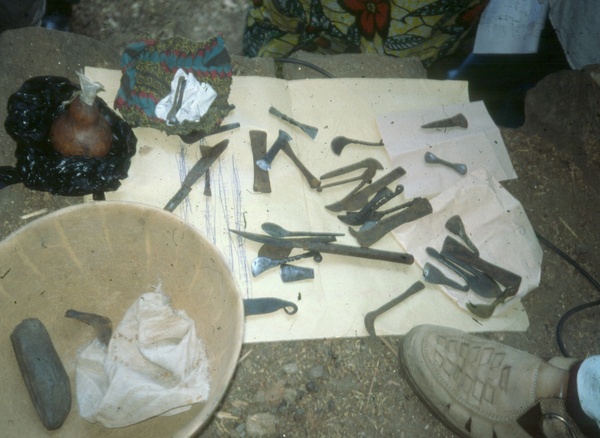 Ceremony in Benin where excisors hand in their knives and cutting tools. source:(I)NTACT Benin.
Even performed by a professional, the practice still violates human rights and poses health risks for victims.
Benin has a law banning FGM since 2003. Hönle adds that law enforcement can be useful to send a message to practitioners and traditional chiefs to stop FGM, but this legislation is rarely applied because there is a lack of police personnel. The fear the chiefs' authority cast on communities and policemen also plays a relevant role.
"In Burkina Faso, Ghana or Senegal the practice has gone underground which makes it a lot more difficult to fight the tradition" added Hönle in reference to the effects law enforcement can have.
Alternative rites of passage in Kenya
In 1998, one third of Kenyan women underwent FGM. In 2014 it was one in five.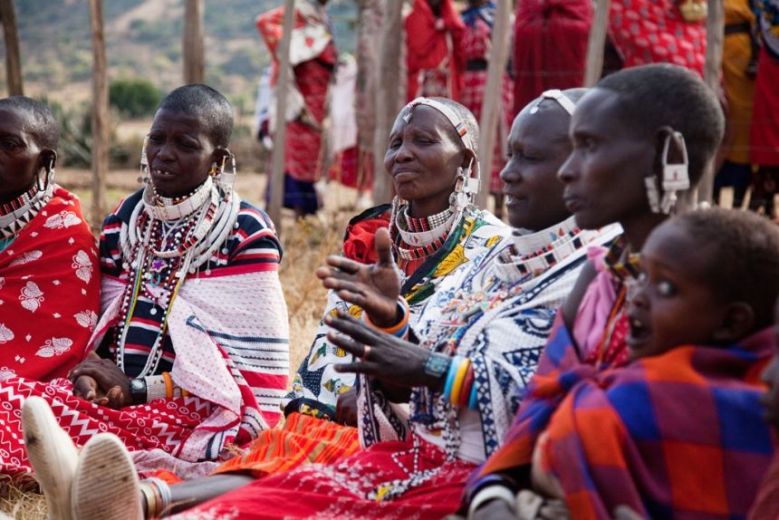 A group of Traditional Birth Attendants (TBAs) discuss the Alternative Rite of Passage with NGO SAFE Maa members. source:The Orchid Project.
Campaigns against the cutting in Kenya have faced multiple challenges. One of these obstacles that prevent the practice from disappearing is medicalization: 41% of cutting is now performed by medical professionals. "This means that many parents seek out health professionals to try to minimize the harm caused by cutting. This, however, legitimizes the practice and makes it harder to end over the long term", explains Oliver Chantler, from the NGO Orchid Project. Moreover, even performed by a professional, the practice still violates human rights and poses health risks for victims, including infections, difficulty to urinate and even death.
Genital reconstructive surgery is performed in France, Sweden, Spain, Germany and The Netherlands.
Chantler adds that child marriage and school enrollment are often linked to FGM in Kenya. "Girls will often be taken out of school after undergoing FGM, and they may also be married at this time" said Chantler. The Orchid Project has created a network of organizations which discuss the practice with the communities in order to raise awareness.
As the practice also represents the passage from being a girl to becoming a woman, the NGO SAFE Maa spread an alternative rite of passage in the Loita Hills in Southern Kenya among the Maasai ethnic group. The new rite keeps all the features from the traditional ceremony but omits the cutting.
Reconstructive surgery for FGM survivors
Attention for survivors includes healthcare support, sessions with psychologists, training on sexual health and even yoga lessons as said by the Desert Flower Foundation, founded by activist and former model Waris Dirie.
Another way to help the survivors cope with the trauma is genital reconstructive surgery. It was introduced by French Dr. Pierre Foldes 25 years ago. The surgery separates the sewn genitals of those women who have suffered infibulation to restore normal physical functions. For those whose clitoris have been cut, the repair procedure opens the scar tissue and grafts fresh tissue over the nerves which give sensibility. However it's important to ensure that FGM must not occur in the first place. That is the only real solution for this problem.
Currently there are multiple health professionals who are carrying out this procedure worldwide. At least 50 physicians have learned Dr. Foldes' technique and now is practiced in Paris, Sweden, Barcelona, Berlin and The Netherlands. Foldes' team in Paris has performed more than 5,000 procedures.
"We reconstruct the clitoris and try to remodel the clitoral hooding in order to restore a natural appearance" said Dr. Uwe von Fritschen from the Desert Flower Center Waldfriede Hospital at Berlin. "Usually sensuality should be regained. To my knowledge there is only one patient out of sixty that underwent the procedure so far with an insufficient recovery".
Most of these doctors and hospitals practice these procedures in a holistic approach including psychological support, physiotherapy, social work and a self-help group.
So far, reconstructive surgery has been applied mainly to diaspora communities in Europe and the United States. Dr. Bowers, a health professional whose team has practiced 100 genital reconstructive surgeries in the United States, explained that her patients started to think about the surgery once they were in the countries they arrived to because in their motherland it was not seen as something relevant for their lives. "There are a lot of interested women in Africa. The problem is that only rich African families can afford to pay such an expensive surgery", thinks Hönle.
The procedure has also received criticism. "I have been researching and studying claims of reconstructive surgery and have not found any convincing procedure or scientific evidence." said Nahid Toubia. "I am still to be convinced by what this 'reconstructive surgery' entails. I hope it is not selling impossible dreams to traumatised and desperate women by those who have financial gains in mind."
However, according to Dr. Pierre Foldes, his own research demonstrates the benefits of the surgery in his thousands of procedures. He also does not charge patients for the surgery.
The future
Although some countries such as Benin and Kenya are winning the battle against FGM, some others like Somalia or Sudan are changing very slowly. Still, there are multiple programmes that NGOs and governments are carrying out and will decide how many women will be affected. The battle will go on for these organizations and for the three million girls that are in risk of being cut every year. UNICEF says that if the decreasing trends continue, by 2050 196 million women would have undergone FGM. But if current prevalence rates go on, 325 million women would suffer the procedure. In both cases it's a couple of million too many.